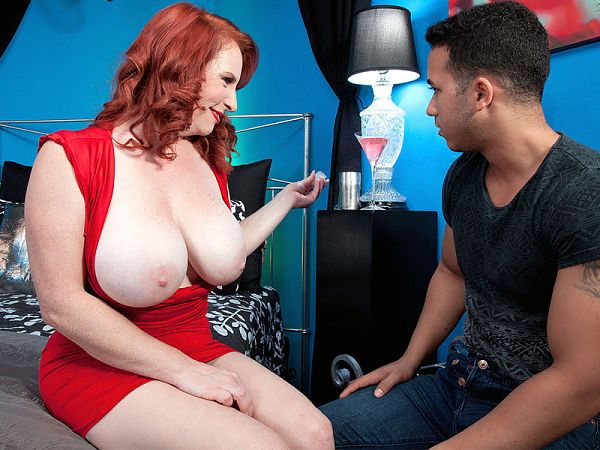 Red Vixen is a busty mom. She's also a SCORE reader's wife. Her hubby was the one who encouraged her to contact us.

"My husband is the one who built my confidence more and more," Red said. "He brought out that sexy side. He made me see that I was sexy, that I wasn't just an 18-year-old with boobs. I think it was then that I really blossomed the most, then one day he just started taking pictures of me, just sexy stuff."

But probably not as sexy as what's going on here: With Mr. Vixen's blessing, Red sucks and fucks a hung porn stud. She gets her tits sucked and fucked. Then she gets her MILF pussy slammed. My favorite part of this scene is when Red gets face-fucked and doesn't back off at all.

Naturally, we asked Red what she wears when she goes out.

"I'm not afraid to go without wearing a bra," she said. "I like to be sexy but not over-the-top. I try to keep it classy but sexy. I don't ever want to personify the hooker look. I don't want to wear heavy makeup or wear a shirt that's cut down so low that my boobs are exposed, but I'll wear sexy short shorts and little wedge heels. My sexy tank top with a bra or no bra."

The buxom Californian (originally from Nebraska) has always gotten a lot of attention.

"Anything I wear seems to emphasize these bad girls. I catch both men and women checking me out. I don't mind it at all. In fact, I find it flattering."